About Body Logic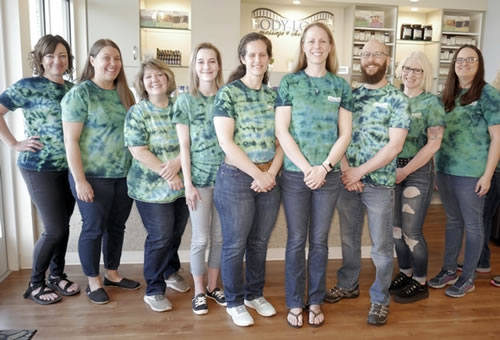 Our History
Dr. Amanda and Dr. Scott dated while attending New York Chiropractic College. They knew they didn't want to stay in New York after graduation; because of their focus on nutrition, exercise and rehab, and extremity work, they chose Virginia, which allows chiropractors to incorporate a broader range of care than simply spinal adjustments. They settled on Virginia Beach because who doesn't want to live at the beach?
After graduating with their Doctor of Chiropractic degrees in 2008, Dr. Amanda and Dr. Scott both went to work in other chiropractic offices. After a short time, Dr. Amanda left and rented a space in the original Body Logic office. The previous owner wanted to focus on other things, so Dr. Amanda purchased the practice from him in 2010, and in 2012, Dr. Scott joined her at the practice—and they got married.
In October 2016, we moved about a mile from our original space. Our new clinic is comfortable and welcoming, with great colors, nice-smelling essential oils, and an inviting team to help you feel right at home and like part of the family.
Our Philosophy
We consider ourselves science geeks, and we love the science behind chiropractic care. We enjoy sharing our knowledge with you; to help you understand the mechanics and function of the various systems of your body. Chiropractic care can help restore function and mobility; when you move, you feel better. "Sitting is the new smoking," and our goal is to encourage movement so you can keep feeling better.
MEET THE DOCTORS »
We Don't Rush
Our atmosphere is fun and upbeat, and our entire team is engaging with everyone who comes through our front door. We don't rush your care, and we always take the time to give you our full attention. In addition to helping you feel better, we want to make sure you feel heard and understood.
Get Started with Care
Contact us today to schedule your first appointment for outstanding chiropractic care.

About Body Logic | (757) 427-0355