New Patients at Body Logic
Preparing for Your Visit
When you schedule care at Body Logic, we'll send you an email with links to complete and submit our online intake forms before your appointment. Be sure you have your ID and insurance card with you. If you have recent images (X-rays, MRIs), please bring the films or reports to share with us. We suggest wearing comfortable clothes you can move in—something you would wear to the gym is great.
ONLINE FORMS »

Your First Visit
This visit generally takes about 45 minutes to an hour. We'll talk about your history and condition. Your exam will include:
Posture assessments
Range of motion tests
Neurological and orthopedic tests
Chiropractic assessments
If we feel X-rays are needed, we will refer you out to a local imaging center for those. If we don't need X-rays, we often provide some type of treatment at this visit to relieve your pain.
Dr. Scott Kuper, besides his great hands-on techniques, diagnosed that I was lacking calcium lactate. Since I have been taking the Standard Process calcium lactate supplement my muscle cramps are greatly reduced.

Thank you for such a great first visit!

I was vacationing in Virginia Beach and in desperate need of a massage. I could barely move. I was treated on Thursday for 30 minutes and on Friday for 90 minutes. They both were absolutely amazing! Very knowledgeable about anatomy, found the exact cause of my pain and gave me things to do when I left! I recommend these folks to everyone!

Dr. Rachel was excellent. She took her time and explained why and how she was doing things.

Three years ago, I crawled into body logic in extreme pain. I was told I had to have back surgery within days. I declined surgery and made an appointment with Dr. Scott. Within a week I was feeling great relief and was able to stand again! I can't thank Body Logic enough for the great attention and first-class service!

Dr Abbot and Massage Therapist Adriene are an unbeatable team.

Awesome place! Glad I went and am looking forward to my next visit. Dr. Rachel was easy to talk to. I felt like I have known her for years. Great experience!

I was in an automobile accident that left me unable to turn my body. I couldn't even turn my head to look at someone without severe pain. Dr. Amanda Meyers- Kuper and the Body Logic team turned my entire life around in a very short period of time. Dr. Amanda is an angel right here on earth. I drive quite a distance to get to my appointments, but it's worth every mile.

Loved everyone at the office, especially Hayley!
Your Second Visit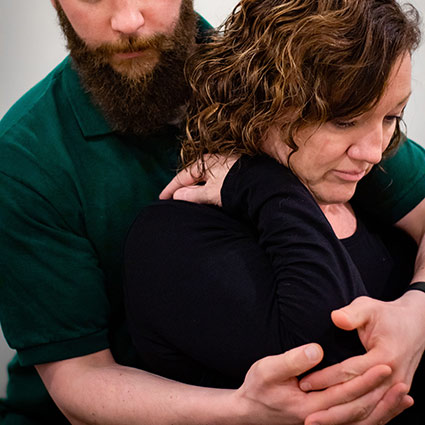 Your chiropractor will evaluate the information from your first visit to recommend a care plan specific to your needs. At your second visit, which will last about thirty minutes, we will go over our complete report of findings, our recommendations for care, and the financial aspects. We are not a cookie-cutter office, so your care plan and frequency of care will be determined entirely by your needs and goals.
Insurance
We are in-network with BlueCross/BlueShield, Cigna and Medicare/Humana. Since every plan has different benefits and costs, we will verify your coverage and work with you to determine what your benefits are and what your costs will be.
We are very up-front about our fees, so there will never be surprises. If you don't have insurance, our time of service rates is $75 for the initial examination, $45 for typical adjustments, and between $10 and $75 for other healing modalities. Massage pricing is time-based. As you work through your care plan, we will keep you informed about any additional care we recommend and the cost.
Schedule Care Today
Contact us today to book your first appointment.
CONTACT US »

New Patients at Body Logic | (757) 427-0355