Meet Dr. Scott Kuper
Athletic Background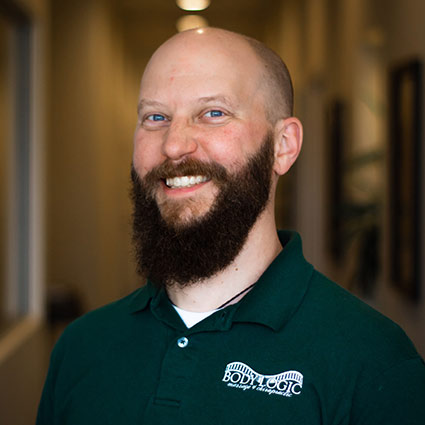 Dr. Scott Kuper was born and raised near Buffalo, NY. A significant sports injury during high school led him to pursue and receive his Bachelor of Science degree in Athletic Training from Duquesne University in Pittsburgh, PA.
His personal experience recovering from injury and helping other athletes return to play during multiple clinical internships at Duquesne solidified his belief that proper joint mechanics and muscle activity are crucial for maintaining a healthy, active lifestyle.
Pursuing Chiropractic
Subsequently, Dr. Scott continued his education at New York Chiropractic College where, in addition to the normal curriculum, he worked as the Athletic Trainer for the school's recreation department and interned at the Buffalo Veterans Affairs Medical Center. Dr. Scott graduated from NYCC in December 2008 with his Doctor of Chiropractic degree and moved to Virginia Beach, where he began his career treating patients in the Hampton Roads area. He joined Dr. Amanda at Body Logic in May 2012 where he has continued to provide exemplary care with a holistic and educational approach.
Experience and Expertise
Dr. Scott uses his experience and expertise to treat a wide variety of patients, including professional athletes and weekend warriors, children and the elderly, members of the armed services, and people with disabilities. His approach to treatment combines the restoration of joint mobility, rehabilitation of muscles and soft tissues, and proper nutrition to improve the livelihood of patients. His goal is to improve his patients' quality of life as quickly as possible so they can experience less pain, reach their own unique goals, and live happier and healthier lives.
EXPLORE OUR SERVICES »
Away from the Office
Dr. Scott and Dr. Amanda were married in October 2012 and have two wonderful children—Abigail and Nathaniel. He looks forward to serving the community with outstanding chiropractic care alongside Dr. Amanda for years to come. In his free time, Dr. Scott enjoys playing soccer, hiking and camping, and listening to music while working in his vegetable gardens.
Schedule Today
Contact us today to book your first appointment.


Dr. Scott Kuper | (757) 427-0355