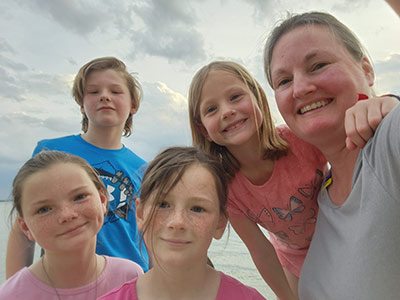 "Dr. Amanda has my back, literally, in so many ways."
With Mother's Day right around the corner, we couldn't think of a better person to highlight for our May success story than Ryan Ward. Not only is she a navy wife and mom to six kids ranging in ages seven to fifteen, but she is also a voracious gardener who last year grew over a hundred types of tomatoes. (We can't even imagine.) She also whips up pancakes made from her homegrown purple sweet potatoes to get her kids to eat their veggies, and they like them! Oh, and she also raises chickens. We are in total awe and wonder what her secret is to juggling it all. Most of us would have flown the coop by now.
So, what's her secret? In addition to being very focused, creative and determined, she credits Dr. Amanda and the Body Logic family to helping make sure she stays on top of her health so that she can continue to be on top of her mom game to her family. She took a few moments to step away and chat one recent weekend while camping with her family, for which we are grateful. It couldn't have been an easy task. "They're actually pretty good about understanding when I need to have some time." she says. "Plus, they love the fresh air, trees and just being outdoors as much as I do. It's paradise." She says, with a remarkable easygoingness and sense of calm for a mom of six. "Being one with nature is where I truly feel my happiest and healthiest."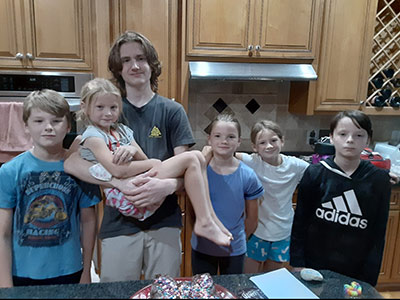 Part of the Happiness Puzzle
While part of her inner peace comes from her love of being outdoors and all things plant-related, she credits Dr. Amanda and the Body Logic family for being another piece of her life happiness puzzle.
"I had been looking for a new chiropractor when we relocated with my husband's job. My sister told me about Dr. Amanda so I decided to give Body Logic a call. I can honestly say she and Body Logic team are the best practice around. Dr. Amanda does so much more than "crack the back." She cares, even when I'm not caring for myself. She just innately knows how I'm feeling and what my body needs at that moment. Like most moms, my focus tends to be on my kids first, and myself second. She tapped into that and just knew. She takes time to make sure I'm taking my vitamins, eating well and if something seems off, she's right on it. That is rare. All six of my children receive chiropractic care at Body Logic as well. As mothers, we always want the best care for our children. I know they're in good hands with her. In fact, Dr. Scott helped my eldest son with his stance when he was just beginning his weightlifting program. As a result, they've become very in tune with their bodies, and they'll ask if they can go see Dr. A. That's so reassuring."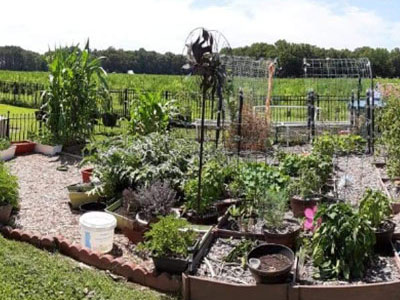 It's almost time for her to return to her family as our interview comes to a close. However, we had to ask about the chickens. Laughing, she tells us the reason is far less dramatic than we might think. "Well, here's the deal. I love gardening, but I hate weeding! The chickens clean my garden and prepare the soil for planting by eating all the debris and churning the dirt! Gardening, while cathartic and relaxing, can also be very strenuous, especially given the size of my garden. I'm constantly bending, scooping, digging and stretching, so the chickens make it easier! Plus, there's nothing more delicious than fresh eggs!" As our conversation comes to a close, she says "I just sent you a photo of where I've been sitting during our interview." The image is a breathtaking view of lush green trees under a sunny, clear, sapphire sky. "This, along with making sure I take care of my health with regular chiropractic care and getting my hands in the dirt with my gardening, is what keeps me grounded."